Breeders of Top Quality
Dutch Warmbloods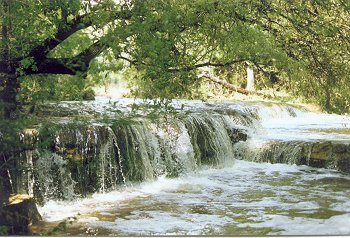 THE FARM
Top Flight Farms is a private facility consisting of 53 acres conveniently located in the beautiful Texas Hill Country, northwest of Austin, near Leander and Cedar Park. The farm is just 1.5 miles from Lake Travis.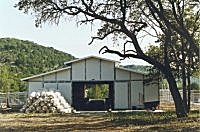 The cool, metal Barnmaster barn consists of ten 12 x 12 stalls. Each stall has a rear dutch door with a 20 ft paneled run off the back. Inside the stalls are rubber mats and a fly spray system. The wood lined, 12 ft center aisle is concrete with rubber mats, and a raised center aisle roof overhead for better ventilation and cooling. There is also a locking tack room, feed room, and outdoor washrack.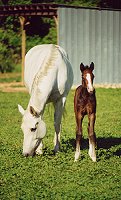 Young horses at Top Flight Farms grow up in pastures 24 hrs a day, with a run-in shed for shelter and trees for shade. They enjoy the fresh air, plenty of exercise, and companionship that helps them grow up healthy and strong, both physically and mentally.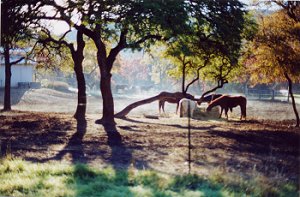 Horses at Top Flight Farms may be brought in to stalls at night for individual feeding, and turned out all day (weather permitting) into various small pastures that are rotated to help preserve their grazing grasses. Horses receive a grain mix twice a day, and free choice coastal round bale hay in their turnout pastures.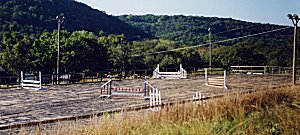 The large lighted arena was built to USDF (United States Dressage Federation) standards. It has excellent sand and rubber footing and a two rail cedar perimeter fence. A full set of decorative stadium jumps, including rails, panels, gates, and boxes, is available for use.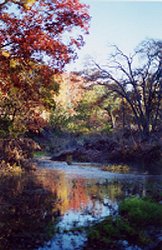 Beautiful trail riding is another unique feature at Top Flight Farms. A relaxing trail ride is a much needed break from arena work for both horse and rider. It is an important part of training for all horses, especially the young and/or green horse. The trail ride may continue off the property for a longer trail ride down to Lake Travis for a picnic and swim. The lake is only about 1 1/2 miles from Top Flight Farms and makes for an enjoyable outing.

Home | Horses for Sale | Breeding Program | Stabling/Training | Latest News
Congratulations! | Calendar | Links | Email Us

© Copyright 2000-2003 Top Flight Farms - All Rights Reserved